The 100m is the blue ribboned event in athletics, and today I'm going to talk about the best track spikes for 100m.
The 100m can be won and lost in just 0.01 of a second. Athletes like myself spend hours and hours each week spending to achieve the best time possible. When you step on the start line, you want to know everything in your power will give you the best opportunity to win or gain a personal best. Taking this into account, which spikes you choose to run in over 100m is very important.
Decathletes will have an entire bag to carry their shoes around because of the various events they compete in. Not to the same extent, some sprinters will have a different style of sprint spikes depending if their running in the 100m, 200m or 400m.
Most 100m sprinters will opt for the more aggressive spikes, as they will all the athlete to push more force into the track as the spike plate will bend less.
Because of the plate not flexing as much, they can feel uncomfortable when running flat out round the bend, but as we all know, 100m runners only need to run in a straight line.

Best spikes for 100m
Nike Zoom Maxfly
The Nike Air Zoom Maxfly bounced onto the scene a few years ago, with its new design it certainly turned a lot of heads and created many news articles around the world, with people questioning whether they were even legal or not.
The Performance of these spikes can't be questioned as there are many athletes that I've run massive PB's while wearing them. They certainly do break the mould of the more conventional sprint spikes, but once you've got used to running in them they are truly magnificent.
They are very aggressive and hold your foot in a particular position which some athletes might find difficult to get used to. Check them out for yourself, they are truly remarkable.
Adidas Adizero Prime SP2 Sprint Spikes
The all-new Adidas Adizero Prime SP2 is the answer to the Maxfly which is listed above. Adidas introduced the spikes during the 2022 track season, and many sprinters quickly adopted the spikes as their go-to sprint weapon. One of those athletes was Noah Lyles, one of the stand-out performers of the 2022 season.
I've created a full review of the Adidas Adizero Prime SP2 where I've gone into great detail including which type of runner the spikes would better suit and why you would want them in the first place.
Overall they are fantastic spikes for the 100m, offering great bounce back from the truck in energy return enabling you to fully utilise every bit of power you maximise when you spend hours each week training.
I found them to be a lot more comfortable to wear for long periods compared to the Maxfly, as they are less aggressive.
Adidas Finesse Track Spikes
The Adidas Finesse spikes are the first appearance of Adidas in my best track spikes for 100m. I've chosen these spikes from the list because they are one of the most comfortable pairs of spikes I've ever run in.
When I first put them on, my first thought was how bouncy they feel, and we all know how important that is psychologically when going into a race or a tough training session.
The spikes are also incredibly light, with the minimal materials needed to make the shoes. But this in no way compromises the premium feel.
Nike Superfly Elite
The Nike Superfly Elite has long been the most popular pair of spikes for the 100m. As we all know, Nike is a well established international sporting brand. And the amount of time and money which goes into their products with technological and scientific advances are staggering.
One benefit of all that research and development is the high-tech which comprises the Superfly Elite. The ultralightweight material hugs your foot nicely, creating an even pressure hold around your foot. It limits the movement of your foot within the shoe even when you're sprinting fast around the bend. This is nice to hear for those 4x100m relay runners.
The spike plate is made from Nike's highly recognisable honeycomb design. Using this design, Nike can Create stiffer and flexible regions of the spike plate by making the holes smaller or larger. It's incredibly comfortable whether you are walking or sprinting flat out.
You get eight removable pins on the shoe's underside to give you all of the grip you would need in any condition.
All-round, they are a fantastic pair of spikes for all distances up to 400m as well as hurdles.
New Balance FuelCell SD-X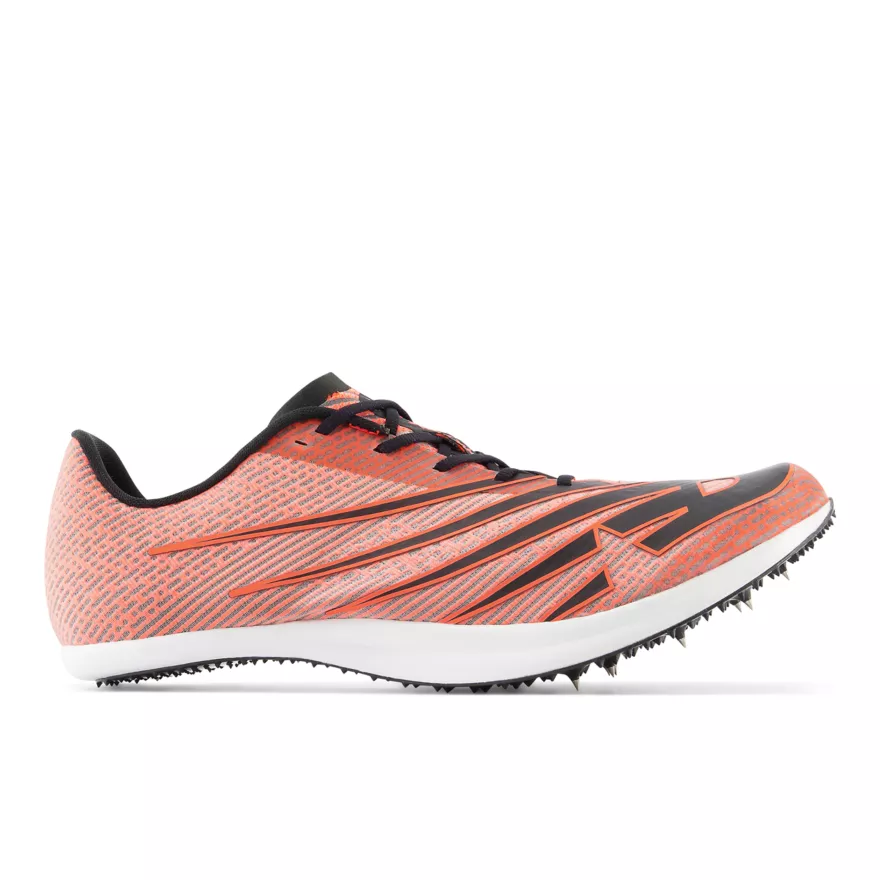 Here we have the New Balance FuelCell SD-X sprint spikes. The highly specialised sprint shoes are equipped with new balances FuelCell Technology, giving athletes a highly responsive cushioned ride.
The shoe's upper part is made with light mesh material, allowing maximum breathability and a very comfortable fit around the foot. The shoe's overall fit makes the foot feel locked in place, aiding ultimate spring.
The fuel cell technology the new balance has created is made up of phone material designed to compress and re-down very quickly, creating a highly responsive ride which significantly improves performance.
They feel fantastic to run in and can be used for sprint events from 60 m up to 400m.
New Balance Vazee Verge v1
out of stock
as of November 30, 2023 1:13 pm
As I Stated in the Best Sprint Spikes article. New Balance has started making a name for itself again in the athletics arena. In the last 10 to 15 years, we haven't seen much of them at all. But now they are back and mean business by producing some fantastic looking spikes and sporting attire. The New Balance Vazee Verge V1 Sit very much in the middle of all the spikes we've listed in this article.
By this, I mean they're not overly aggressive and hold your foot in a set position like some of the other spikes, But they do have a lot of support around the foot Compared to some think like the Adidas Adizero Prime.
Black certainly seems to be the choice of colour this year, as also Adidas chose that for their range in 2018.
Adidas Adizero Prime Track Spikes
$69.90
in stock
as of November 30, 2023 1:13 pm
out of stock
as of November 30, 2023 1:13 pm
The Adidas Adizero Prime Spikes are one of the best sprint spikes for 100m. I like these spikes so much for the 100m because they are light and comfortable. Adidas have made all the cuts necessary to bring you the most lightweight spikes on the market while still achieving fantastic support for your foot.
Another reason I like these spikes is something I think that gets overlooked. When choosing a pair of spikes, that's how comfortable they feel while using starting blocks. Over the years, many spikes I've had have felt weird while in the set position. Sometimes it feels like your feet are slipping down the block pad. Not something you want to be worrying about while waiting for that brief period before the starter's gun. But with the Adidas Adizero Prime Spikes, there is no need to worry about such a thing happening.
Check out our Adidas Adizero Prime Review.
Adidas Adizero
Accelerator
£29.50
in stock
as of November 30, 2023 1:13 pm
out of stock
as of November 30, 2023 1:13 pm
This particular pair of spikes ticks pretty much every box I look for when choosing a pair of spikes for the 100m. As you can tell by the picture, they are incredibly light, and Adidas have gone to extraordinary lengths to cut down on excess weight. By constructing the shoe's heel with a mesh material, the upper is made from a light synthetic material with breathable holes situated across the top of the shoe.
The foot support you feel from these track spikes is fantastic. The strap across the top forefront holds the foot in the correct position and stops any lateral movement, ensuring all of your power and effort is moving in a forward motion to the finish line. After all, no athlete spends all those hours training to have a small percentage wasted because of your chosen spikes.
The spike plate Isn't overly aggressive and fairly neutral than many other 100m sprint spikes on the market today. So I'm confident that if anyone buys things bikes, they will find them comfortable and confident to give them the performance they want.
Conclusion of the 5 best track spikes for 100m
There isn't an awful lot to choose between the spikes I've listed above when it comes down to it. The biggest baring will be if you're a junior or senior athlete, as the seniors tend to have more money to spend on spikes, which is why it can be so confusing for any athlete trying to whittle down the track spikes they wish to use for the upcoming season. Many established sprinters and seasoned athletes will have their preferred make and model of spikes.
But sometimes, the manufacturer can change things like the spike plate, which can always be detrimental as it always comes down to what works best for the individual athlete. By making this list, I'm hoping it will help any new athlete searching to find some information on the best track spikes for the 100m. Also, those well-established athletes who have always stuck to the same manufacturer help them find potentially a better-suited pair of track spikes.
For more information on sprints bikes to help our sprint spikes page. That contains all the various blog posts and articles we have written on sprints spikes. Potentially there could be even more information. To help you find your next spikes.
If you have anything you would like to add, don't forget to comment below, I always try and respond as fast as possible.